Appreciative Inquiry: The Five D's
What if the goal of 'continuous improvement' changed to 'radical innovation'? Would the way in which we think about and conduct evaluation also change? Appreciative inquiry is a framework that focuses on envisioning 'what can be' rather than 'what's wrong with what is'. The science supports a move toward a more positive approach to improvement; to radical change.
The Essentials of Appreciative Inquiry: A Roadmap for Creating Positive Futures[1] article discusses a 1982 study conducted by researchers at the University of Wisconsin illustrating the power of this approach. Two bowling teams studied videos of several games they had played. For one team, the video focused on what they had done wrong; for the other, the video focused on what they had done well. The impact? Although each team's performance improved, the team receiving positive feedback improved twice as much.[2]
The diagram[3] below illustrates the Five D's of Appreciative Inquiry. How can we apply this appreciative approach to the work we do in energy conservation? Asking this question is the beginning of the process. Define what we want to learn and discover how we can go about that learning. Envision a different way to conduct evaluation and dream of new and innovative program design, engagement, and delivery.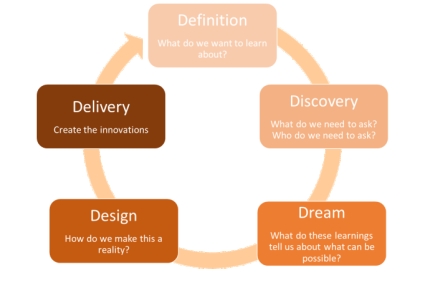 Innovations outside the energy conservation realm are exploding in radical ways (think of all the different 'smart' devices we interact with multiple times per day). I am confident in stating that these innovations come about only because of the imaginations, the dreams, of those thinking about what is possible. Let's all begin thinking about what we do differently.
Questions for readers: Do you know of any examples of Appreciative Inquiry in practice – within or outside of the energy conservation space? Are you conducting any initiatives using Appreciative Inquiry? Do you have stories you can share?
In the Next Issue
In the next few posts, we will continue to explore how Appreciative Inquiry might be a vital component for shifting how, when, why, and where energy is used by diving more deeply into the Five D's. I would love to hear from others!
---
[1] Bernard J. Mohr, Appreciative Inquiry: Igniting Transformative Action, https://thesystemsthinker.com/appreciative-inquiry-igniting-transformative-action/
[2] Many other studies demonstrate the powerful effect of positive thinking and positive feedback. I encourage you to investigate this topic more. I predict it will brighten your day.
[3] Adapted from the Five D's diagram in the article referenced above.
About This Blog
We are on the brink of an evaluation renaissance. Smart grids, smart meters, smart buildings, and smart data are prominent themes in the industry lexicon. Smarter evaluation and research must follow. To explore this evaluation renaissance, I am looking both inside and outside the evaluation community in a search for fresh ideas, new methods, and novel twists on old methods. I am looking to others for their thoughts and experiences for advancing the evaluation and research practice.
So, please…stay tuned, engage, and always, always question. Let's get smarter together.