Appreciative Inquiry: Definition
"Questions are fateful. They determine destinations. They are the chamber through which destiny calls." (Godwin Hiatshwayo)[1]
My last two posts introduced the practice of Appreciative Inquiry. "Appreciative Inquiry (AI) … focuses on what's working well, analyzing why it is working well, and how to do more of it."[2] Rather than focusing on the problem, or deficit, we imagine where we want to be and move in that direction.
Through this practice, we approach getting to where we need to be by focusing on what is being done well. The idea is that momentum builds in the direction of focus. Remember those days when you were learning to ride a bike? With our attention on the things in our way, we inevitably crashed right into them. Where we focus is where we are likely to end up. This is why the Definition Phase of the Five D's of Appreciative Inquiry is so important to get right (the Five D's are illustrated below[3]).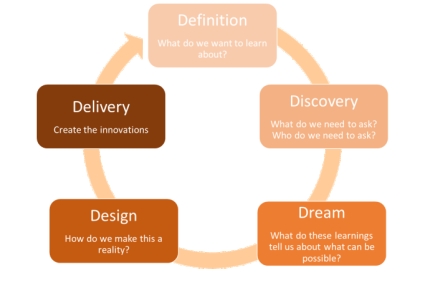 Questions are fateful. What is asked defines the focus. Carefully describing what we must learn about to move in a forward direction is critical. We want our questions to center around what we want to achieve, from the positive perspective. We want to start by asking, "What do we want our future-state to look like?" rather than, "How do we solve this problem?".
Broad engagement is a cornerstone. Appreciative Inquiry is a "high-participation, full voice process targeted at … innovation." Communities, lawmakers, regulators, industries, and other stakeholders "engage with one another to discover, dream, and design the … future."[4] In the context of how, where, and when we use energy – and all that goes with it – Appreciative Inquiry can bring us together to define our collective sustainability goals.
Check out a short video on the Massachusetts Energy Efficiency Appreciative Inquiry Summit. In 2012, the Massachusetts energy efficiency program administrators invited a diverse group of business and civic leaders, policymakers, advocates, and residents to participate in the "Massachusetts: Leading the Nation in the Energy Savings Revolution — Building a Better Tomorrow Through Energy Efficiency Today" Appreciative Inquiry summit. More than 250 participants worked together to develop ideas to form a road map for Massachusetts' energy efficiency future[5].
And, I believe the benefits are real. Massachusetts has been a leading state for energy efficiency for decades. Eversource Massachusetts and National Grid Massachusetts tied for first place in the ACEEE 2017 Utility Energy Efficiency Scorecard[6]. What might we all achieve together when we focus on the positive?
In the Next Issue
In the next few posts, we will continue to explore how Appreciative Inquiry might be a vital component for shifting how, when, why, and where energy is used by diving more deeply into the Five D's. I would love to hear from others!
---
[1] Find this, and other inspiring quotes here: "Words of Wisdom…Quotes That Lead In New Directions", https://www.ndcollaborative.com/quotes-2013/
[2] Appreciative inquiry was developed in the 1980s by Dr. David Cooperrider and Dr. Ron Fry of Case Western Reserve University. See https://weatherhead.case.edu/centers/fowler/business/appreciative-inquiry for more info.
[3] Adapted from the Five D's diagram in the article Appreciative Inquiry: Igniting Transformative Action, Bernard J. Mohr, https://thesystemsthinker.com/appreciative-inquiry-igniting-transformative-action.
[4] The article Appreciative Inquiry: Igniting Transformative Action provides a summary of Appreciate Inquiry (AI) developed by Consultant Diana Whitney. The quote verbatim is, "AI is a high-participation, full voice process targeted at organizational innovation. People at all levels of an organization engage with one another to discover, dream, and design the corporation's future."
[5] For more info, see http://ma-eeac.org/wordpress/wp-content/uploads/EEAC-Year-2012-Annual-Report-to-Legislature.pdf.
[6] Grace Relf, Baatz, B., Nowak, S.; American Council for an Energy-Efficient Economy, 2017 Utility Energy Efficiency Scorecard, https://aceee.org/research-report/u1707.
About This Blog
We are on the brink of an evaluation renaissance. Smart grids, smart meters, smart buildings, and smart data are prominent themes in the industry lexicon. Smarter evaluation and research must follow. To explore this evaluation renaissance, I am looking both inside and outside the evaluation community in a search for fresh ideas, new methods, and novel twists on old methods. I am looking to others for their thoughts and experiences for advancing the evaluation and research practice.
So, please…stay tuned, engage, and always, always question. Let's get smarter together.