Appreciative Inquiry: The Core Principles
The practice of appreciative inquiry highlights the role of group conversations, imaginations, and general social dynamics to generate positive change. To enable this practice, five core principles of appreciative inquiry help us to positively and meaningfully frame issues for ourselves and for others.
The article, How to Apply Appreciative Inquiry: A Visual Guide[1], beautifully illustrates these five principles.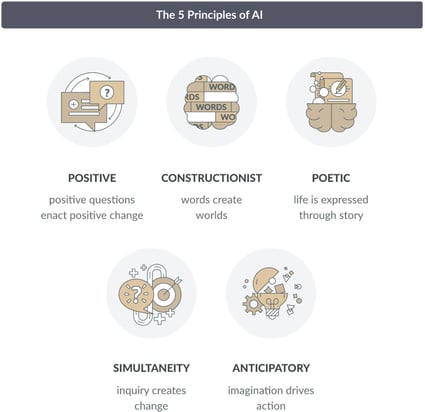 Let's start with the Positive Principle, "Positive questions enact positive change."
Cooperrider and Whitney[2] describe the positive principle as such: "This [positive] principle is not so abstract. It grows out of years of experience with appreciative inquiry. Put most simply, it has been our experience that building and sustaining momentum for change requires large amounts of positive affect and social bonding—things like hope, excitement, inspiration, caring, camaraderie, sense of urgent purpose, and sheer joy in creating something meaningful together. What we have found is that the more positive the question we ask in our work the more long lasting and successful the change effort. It does not help, we have found, to begin our inquiries from the standpoint of the world as a problem to be solved. We are more effective the longer we can retain the spirit of inquiry of the everlasting beginner. The major thing we do that makes the difference is to craft and seed, in better and more catalytic ways, the unconditional positive question."
The power of positivity extends beyond relationships between individuals. Positive questions enact positive change. A positive, appreciative approach can build momentum among individuals, groups, and communities in a constructive direction.
Who has ideas on how to apply this principle to the climate crisis we face today? What is the unconditional positive question?
In the Next Issue
In the next issue, we will continue the exploration of the nonlinearity of the 5Ds along with the principles of appreciative inquiry.
---
[1] Juliette Tocino-Smith, Msc., posted on Positive Pschology.com, November 26, 2019, https://positivepsychology.com/appreciative-inquiry-process/
[2] Cooperrider, David & Whitney, Diana. (2005). A Positive Revolution in Change: Appreciative Inquiry. The change handbook: The definitive resource on today's best methods for engaging whole systems. 87.
About This Blog
We are on the brink of an evaluation renaissance. Smart grids, smart meters, smart buildings, and smart data are prominent themes in the industry lexicon. Smarter evaluation and research must follow. To explore this evaluation renaissance, I am looking both inside and outside the evaluation community in a search for fresh ideas, new methods, and novel twists on old methods. I am looking to others for their thoughts and experiences for advancing the evaluation and research practice.
So, please…stay tuned, engage, and always, always question. Let's get smarter together.